I know! I've been away for ages. And I have also just noticed that comments on posts had stopped being emailed to me so I'd not managed to see some nice messages! Rubbish! Anyway, I'm back and ready for action. Well, I'm making a commitment to blog either every day or perform a forfeit. (As long as that forfeit is not burpees!)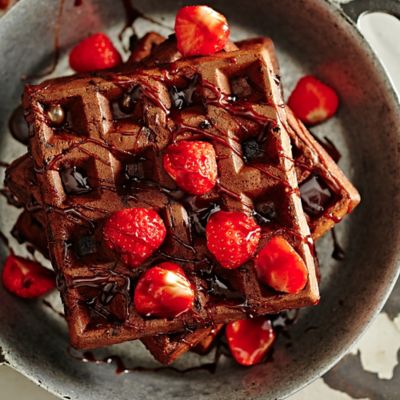 I think that it's time to get back on the blogging wagon, I really miss it when I don't do it and I miss seeing all the things happening around the world and talking to my friends! So that's it. Expect much more waffle from me shortly.
Speaking of which, I had to toss my old waffle machine as the non-stick coating had died of old age and so I'm in the market for a new waffle machine. In the spirit of not buying a single purpose gadget for the kitchen, I'd like to buy a one that does both waffles and toasted sandwiches. Anyone got a recommendation? I am thinking the Cuisinart 2-in-1 Sandwich and Waffle Maker, 1000 Watt, Silver
 one is probably the way to go.
I am quite excited to try some of MsMarmiteLover's savoury waffles as well. In the past I have found a cheesy waffle improves a whole day. I'd like to try making hashbrowns in the wafffle machine, as seen on Pinterest & Buzzfeed but when I tried that with the old waffle machine, I mainly ended up with burnt, stuck on bits. ( I am really not sure about waffling macaroni cheese tho!).